What is so Interesting About the Bronco Outer Banks?
– The 2023 Ford Bronco Outer Banks is a highly anticipated SUV that has generated a lot of buzz due to its unique features and capabilities.
– One of the most exciting aspects of the Bronco Outer Banks is its off-roading capabilities. It has a Terrain Management System allowing drivers to easily switch between various drive modes such as Normal, Eco, Sport, Slippery, and Sand, ensuring that the vehicle performs optimally in different terrains and weather conditions.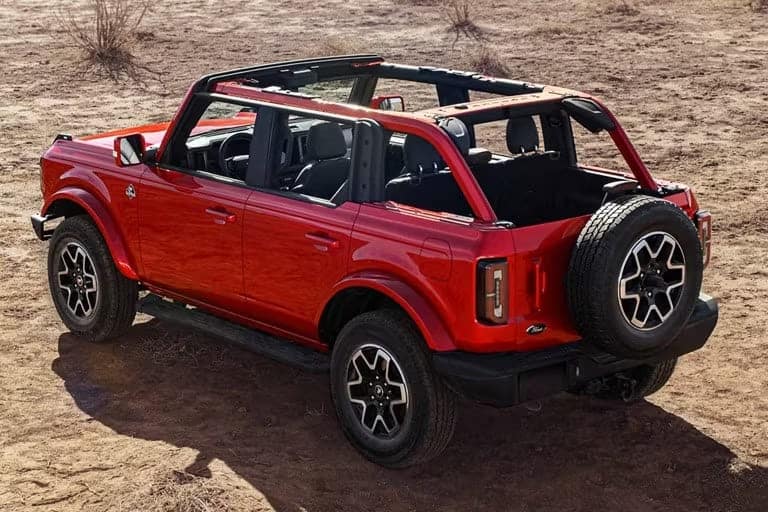 – Another intriguing feature of the Ford Bronco Outer Banks is its removable roof and doors, allowing drivers to enjoy the open air and create an immersive outdoor experience. For example, imagine driving along a scenic trail in Kelowna, Penticton or Vernon, BC, Canada, with the wind blowing through your hair and the sun shining down on you.
– The Outer Banks Bronco also offers an impressive range of advanced safety features. These include adaptive cruise control, blind-spot monitoring, lane-keeping assist, and automatic emergency braking. These technologies provide peace of mind and enhance the overall driving experience.
Design..
– In terms of design, the Bronco Outer Banks stands out with its rugged and muscular exterior. It features wide fender flares, an aggressive grille, and bold Bronco badging. These features give it a distinctive look and signify its capability to handle challenging terrains.
– Inside the Bronco Outer Banks, you'll find a spacious, modern cabin with premium materials and comfortable seating. The SUV offers a variety of convenience features, such as a touchscreen infotainment system, smartphone integration, and multiple USB ports.
– The Ford Bronco Outer Banks Canada has a powerful engine that delivers impressive performance. It offers a 2.3-liter EcoBoost four-cylinder engine with 270 horsepower and 310 lb-ft of torque, ensuring the vehicle has ample power for both on- and off-road adventures.
– Lastly, this SUV offers a range of customization options, allowing buyers to personalize their SUV to their preferences, including different exterior colours, wheel choices, roof options, and more. This level of customization adds to the overall appeal and desirability of the Bronco Outer Banks.
Example:
For instance, imagine driving this Bronco model through a muddy trail on a rainy day. The Terrain Management
Can I Remove the Roof and Doors from the Bronco Outer Banks?
– Yes, you can remove the roof and doors from the Ford Bronco Sport Outer Banks model.
– This Bronco model has a modular roof that can be easily removed to transform the vehicle into an open-air experience.
– The doors on the Banks are also designed to be removable, allowing you to drive with the doors off for a true off-road adventure.
– Removing the roof and doors can provide a unique driving experience and enhance the sense of freedom and connection with nature.
– Following the manufacturer's instructions and guidelines when removing the roof and doors is important to ensure safety and proper reinstallation.
– Some examples of other vehicles that offer removable roofs and doors include the Jeep Wrangler and the Land Rover Defender.
– By removing the roof and doors, you can enjoy the open-air experience, feel the wind in your hair, and have unobstructed views of your surroundings.
– However, remember that removing the roof and doors may affect the vehicle's structural integrity and safety features, so it is advisable to consult with a professional or refer to the owner's manual before doing so.
– Additionally, you may need to consider weather conditions and the potential for increased noise and exposure to elements when driving without a roof and doors.
– Lastly, storing the roof and doors properly when removed is essential to prevent damage and ensure they can be easily reinstalled when needed.
Is the TV Show Outer Banks any relation to the Ford Bronco?
The TV Show Outer Banks has no direct relation to the Ford Bronco. Outer Banks is an American action-adventure television series that centers on teenagers who embark on a treasure hunt on an island in North Carolina. On the other hand, the Ford Bronco is an off-road vehicle model manufactured by the Ford Motor Company.
While there is no specific connection between the series and the vehicle, occasional overlaps or references may exist. For example, in some episodes of Outer Banks, characters may drive an off-road vehicle similar to the Ford Bronco, but this does not imply a direct relationship between the series and the car.
It is important to note that associations between television shows and automobile brands are common in the entertainment industry. Automotive companies often sponsor TV shows or movies to promote their vehicles. However, in the case of this model, there is no obvious promotional relationship.
In short, the Outer Banks TV Show has no direct relationship with the Ford Bronco. While there may be coincidences or occasional references, no promotional association exists between the series and the vehicle.
If you are looking for a Ford Bronco Outer Banks for sale, Orchard Ford is your trusted car dealership in Kelowna. We have a wide selection of new and used SUVs and Ford Broncos and are confident we can get you behind the wheel of the perfect vehicle for you.  
Ford Blog News at:
Everything You Need To Know About The Titanium Ford Trim
Used SUV: Price, Mechanics, Equipment, Safety, and Maintenance Costs
Exploring the Impressive Towing Capacity of Ford Trucks